When reports of coronavirus began to reach our shores and intensify in the early weeks of 2020, it frightened everyone. What did this disease mean for our safety, our jobs, our previous way of life? Government and businesses reacted to its spread in dramatic fashion. By March, the country essentially paused its entire economy due to growing uncertainty.
As our knowledge of COVID-19 and our ability to fight back against it grew, so too did our medical understanding, speed of technological innovation, and response to the disease over time.
Now, our organization is preparing for its second round of vaccinations in our communities. Many of our residents and staff elected to receive vaccinations, increasing the safety of everyone in the Angels Senior Living family. When the opportunity arises, we encourage you to get your vaccinations too.
Let's look back at how we arrived here, nearly a year later.
The beginning of COVID-19 and adjusting to a new world of expectations for assisted living
The harrowing first few months of COVID-19 taught us little about the disease and instead only fueled fear around the globe. We watched as countries like South Korea and Italy adapted to a world of changing circumstances, including eating out behind glass partitions, mandatory lockdowns, wearing masks to prevent the airborne spread of the virus, and most importantly, finding new ways to express hope.
In mid-March, the United States government launched a plan for 15 Days to Slow the Spread. Many individuals stockpiled food and paper products. Schools and workplaces switched to remote and rushed to incorporate more technology and access for their students and employees. The stock market experienced its worst day in history on March 16, 2020, in the wake of widespread panic selling, though it would quickly recover.
As politicians and citizens wrestled (and continue to wrestle) over the best ways to respond to COVID-19. Vacations were canceled, Americans were trapped abroad, and stories emerged daily of the toll the pandemic took on people, particularly frontline workers. Many of our own staff and residents experienced the same fear as the world seemed to close in on them.
Angels Senior Living responded swiftly. We began implementing changes to our visitation and sanitization policies in early March. We redeveloped our policies and procedures to focus on infection control, universal precautions, social distancing, and more. We worked with our staff to take this threat seriously and protect our residents. This kept our communities largely safe from the worst dangers of COVID-19.
Despite the size and scope of the early stages of the response, the worst was yet to come.
Rolling out a successful visiting system in the wake of changes to the state of Florida's COVID-19 response, and enduring a harsh winter
In late August, in response to increasing calls to open assisted living facilities and nursing homes, Governor Ron DeSantis concluded a task force on reopening long-term care facilities. This task force provided lengthy guidelines on safely opening our communities, including rules for educating, screening, and maintaining a safe capacity for visitors. Within a week, we implemented the easiest, most comprehensive self-service visiting system solution to meet the challenge of scheduling visitors at all twelve of our assisted living facilities.
You can schedule a resident visit on our website by visiting https://angelsseniorliving.com/visit-a-resident/ and choosing the correct community. From there, you'll receive an onboarding email from Learn With Angels Senior Living and are automatically enrolled in a course on policies and procedures, infection control, universal precautions, and more. Once you complete the course, you receive a certificate to present during screening for your visit. To date, we've scheduled more than 2,000 visits, and "certified" nearly 800 family members as compassionate caregivers under state of Florida guidelines. We continue to screen all visitors for symptoms, sanitize them, and check them in upon arrival.
But alongside the rigorous preparation made to reopen our facilities came a dramatic rise in cases during the winter. Infections rose sharply starting in November and peaked in Florida at the end of January. The United States as a whole peaked a couple of weeks earlier. Fortunately, both have begun to drop markedly since then, but the preparations of long-term care facilities were put to the test.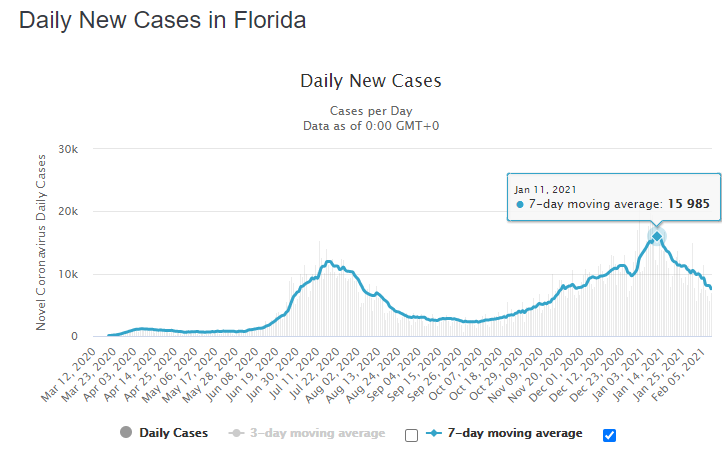 Despite the dangers posed by COVID-19, Angels Senior Living came out of the crisis stronger than ever. Now, real hope is on our side: vaccination.
Preparing for our COVID-19 vaccination clinics this January and February at each of our assisted living facilities
With infections looking explosive, the U.S. Food & Drug Administration quickly approved two vaccines for emergency use. The rollout began almost immediately.
We're partnered with Walgreens and CVS for COVID-19 vaccination clinics at each of our communities throughout January and February. Many of our staff and residents are opting to receive the vaccine, but some are not. At this time, vaccination is not mandatory, but it's important to educate yourself about potential vaccinations should you choose to pursue them. Our current options are the Pfizer and Moderna vaccines. You can find fact sheets for current and future vaccinations on the CDC's website.
So far, 10 percent of Floridians received their first vaccination shot. Over 30 million Americans have received their first shot, according to the CDC. With second clinics and vaccinations beginning,
In the meantime, we look forward to when you have the chance to receive your vaccination. Please reach out to your community directly if you need more information about their individual COVID-19 response, or visit our website.