Florida is one of the most popular and affordable states in America for retirement. Moving to Florida for assisted living is also very popular. For decades, a perfect storm of advantages has encouraged retirees to flock to the Sunshine State. Our beaches, climate, recreation, affordable cost of living, existing senior communities like The Villages, and an abundance of health care access draw seniors to our shores. In fact, 20 percent of Florida's population is 65 years of age or older, according to a recent review conducted by the Kaiser Family Foundation.
Not just seniors move south to Florida, either. In fact, last year the U.S. Census Bureau reported that Florida receives more in-migration than any other state in America. New York, Georgia, and Texas are the greatest contributors to Florida's growing population, and all the great benefits listed above plus job opportunities encourage adults of any age to consider a move.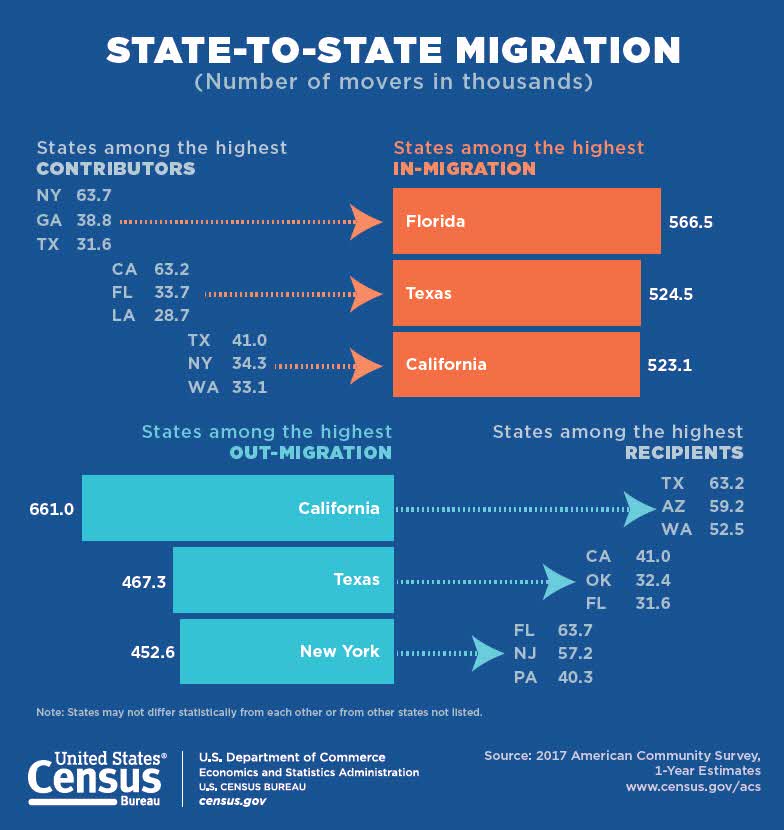 The United States Census Bureau also projects that the American population will continue "graying" and adults over 65 will outnumber children under 18 in increasing numbers by 2035. Many Americans have already turned to states like Florida and Arizona for their warmer climate, easier living, and even other health benefits like cleaner air. If you're an adult who moved already, you may want your parents to move down to Florida with you.
The biggest barrier to taking advantage of all Florida has to offer is, of course, the moving process. At retirement or advanced age, some seniors may not feel up to traveling or prefer to stay in their own homes. In this guide, we'll cover many of the things you need to consider before moving down to Florida for assisted living, or moving your parents or loved ones down to Florida to be closer to you. This guide is also a great resource for wherever you plan to move for assisted living.
The most important component of your move is understanding your health care needs.
Understand Your Health Care Needs Before Your Move to Florida for Assisted Living
The first step to moving to Florida for assisted living is understanding your own needs, or the needs of the senior you're looking for. It's a crowded space, and there are a lot of different senior living options to choose from. Generally, assisted living covers seniors and other adults who need some or a lot of help with their activities of daily living, including preparing food and housekeeping. Assisted living often includes activities, amenities, medical transportation, and sightseeing opportunities as well.
More comprehensive care options like nursing homes and continuing care retirement communities exist, but the barriers to care or upfront financial commitment could be considerably higher. You may be responsible for your own activities, transportation, and entertainment at a continuing care retirement community, and those options may not be available at all at a nursing home or skilled nursing facility.
We recommend seniors visit their family doctors or primary care physicians for an evaluation prior to any move. Your doctor likely understands your health better than most and can help you make the right decision or clear you for any medical care they think you may need.
Finding an Ideal Location for Assisted Living in Florida
Florida has a few very popular and nationally known spots for retirement. The Villages, Naples, Sarasota, and the Tampa Bay Area are very well-regarded for their easy living, existing senior communities and access to care, entertainment, and of course, no income tax.
You may prefer one living situation over another. For instance, The Villages is very much a master-planned and age-restricted retirement community offering many opportunities for recreation and entertainment. However, The Villages lacks beach access and doesn't focus on providing assisted living or memory care. Also, it's likely seniors wouldn't be close to their families owing to the age restrictions. Sarasota is another very popular destination for retirement, and home to one of our newest assisted living facilities, Angels Senior Living at Sarasota. With great beach access and a lovely cultural and culinary scene, Sarasota is a growing retirement community.
The Tampa Bay Area, including St. Petersburg and Clearwater, is currently one of the fastest-growing metropolitan areas in the country. It ranked ninth for numerical population growth between 2017 and 2018 according to the Census Bureau, a trend expected to continue. Steady job options, revitalized downtown scenes in Tampa and St. Pete, and great weather year-round offer pleasant living for families and seniors alike, and both groups may encourage more to move.
Metro areas like Tampa and Miami typically offer more assisted living and memory care options for seniors and generally provide superior access to health care. Wherever you choose to live, weigh your lifestyle and options carefully to come to the right decision. Another variable in your lifestyle choice is your family.
Understand What Family Can and Can't Provide as a Senior or Caregiver
Whether living or moving with you or living somewhere else, making sure a senior's daily needs are met is the number one goal of their family, who may also act as caregivers. But care goes beyond what you might think of as "activities of daily living". It includes companionship, having fun, managing finances, taking medication, fixing household items, and more that may become difficult for seniors as they age.
With that in mind, caring for someone part- or full-time might seem like an impossible task, especially if you have to do it alone. This often leads to a closer relationship between caregiver and senior but can create a stressful situation for everyone involved, too.
It's important to note some of these changes are completely normal and neither family members nor the senior should feel ashamed at changes in behavior or abilities. Encouraging an open dialogue about changes in behavior and abilities is maybe the most important component of preparing for assisted living and something we encourage all families to do.
Based on those conversations with family, you can decide what's right for you. But the struggle may not be over yet, because the family may have different ideas about a senior's case.
Getting Your Family on the Same Page About an Assisted Living Move
It's important that as many stakeholders are on board with an assisted living move as possible. This includes you, whether you're the senior in question, their adult children, siblings, and other loved ones. Different family members may think differently about the right kind of situation for a senior, but if the senior is healthy enough, the final decision should come from them and by consulting their doctor.
Family members like children may want their parents to move to them to be together, offering to let their parents live with them or at a nearby assisted living facility. This may also not be an option, or a senior might consider a move away from family for assisted living if you can't have your needs met. Whatever you decide, encourage family members to have an open dialogue about needs and expectations.
Keep in mind that if you don't have anyone else you need to plan your move with, that's fine too! You can plan your own and find the right living situation for you, with no strings attached. The process of moving for assisted living isn't notoriously difficult, especially if you don't have to contend with Medicaid, but there are some roadblocks you need to watch out for.
There Are Few Federal Standards or State-to-State Regulations for Assisted Living
With little exception, states govern their own assisted living practices. Florida's regulatory agency is the Agency for Health Care Administration, also known as AHCA. There's no compulsory data sharing between state agencies, so if you're moving from an assisted living facility to an out-of-state ALF, you'll have to get them on board for some of the medical legwork.
Your state almost certainly has a state agency regulating assisted living, and you can likely contact them for more information about state-specific requirements if any. An existing facility may expect one month's notice prior to your departure, and you'll have to arrange for movers. Some federal rules apply to assisted living, but these primarily relate to Medicaid. If you need to transfer your Medicaid eligibility, we go into more detail below.
Switching Your Medicaid Eligibility to Florida from Another State
Here comes probably the hardest part. If you're on Medicaid receiving assistance paying for assisted living, it's often a difficult process to "switch" from one state to another. In fact, it's not really a switch at all.
The federal government administers Medicaid, but determining eligibility is left up to each individual state. There isn't an option to "transfer" your Medicaid from one state to another, but you can cancel your Medicaid in one state and apply for Medicaid in your new state of residence so long as you meet the Medicaid requirements. To qualify for Medicaid in general in Florida as a senior or older adult, you must be over the age of 64, be blind or disabled, or have a spouse or parent who is blind or disabled. There are also income requirements. We encourage you to read more on the Statewide Medicaid Managed Care website and contact them for assistance. So, the takeaway is it is not a simple matter to switch Medicaid between two states, and you can't use your Medicaid in a different state.
Most Florida residents receive their Medicaid through the Statewide Medicaid Managed Care (SMMC) program. One component of this is LTC, which covers long-term care like assisted living and has DIFFERENT requirements than standard Medicaid in Florida. LTC is available for ALL ADULTS 18 years or older who meet a nursing home level of care. Nursing homes specialize in administering this type of care, but the state often diverts individuals to assisted living facilities or at-home care to reduce costs.
This Medicaid switchover is, once again, probably the most difficult part of the process when moving for assisted living. Reach out to the state agency through the links above to determine your best course of action. Once you feel you've done enough research and gotten Medicaid switched over if necessary, it's time for the final steps: choosing your community and having your physician fill out the Resident Health Assessment for Assisted Living Facilities, more commonly known as Form 1823. This form applies to FLORIDA ASSISTED LIVING ONLY. If you're moving to a different state, it's likely they have a similar process in place.
Scheduling a Nurse-to-Nurse Assessment and Having Your Physician Fill Out Your 1823
The final step to entering an assisted living facility in Florida is the resident health assessment. Chances are, we won't be able to evaluate a senior moving into one of our assisted living communities before they actually move. This means we'll conduct what's called a nurse-to-nurse assessment.
Using Form 1823 as a guideline, Angels Senior Living will schedule an assessment with a nurse or assisted living staff member familiar with your (or your loved one's) medical history and current abilities. A nurse or manager from our staff will discuss physical and sensory limitations, diet, behavior, nursing and treatment requirements, ability to perform activities of daily living and self-care, and determine if there are any unusual things to consider. With all this information in hand, we'll be able to tell if you're a good fit for assisted living.
After we — or your assisted living provider of choice — get a baseline for your abilities and health requirements, you'll get either approved or denied admittance to the assisted living community. The last step is scheduling with your primary care physician or family doctor to fill out a formal 1823. Then, you're ready to move to Florida for assisted living! Once you or your loved one arrives at one of our communities, we'll perform an additional face-to-face examination and interview with the new resident as required by the state to confirm our information. We'll also offer you access to doctors we work with, so you can rest assured you'll get the care you need.
There are a couple of very common complications to consider before you decide if an assisted living move is right for you. Sometimes, elderly parents or loved ones don't want to move. Other times a senior may suffer from Alzheimer's, dementia, or a physical complication that makes moving very difficult. Here are a few pointers on how to approach either situation.
What To Do When an Elderly Parent Doesn't Want to Move
Children or other loved ones and their parents disagreeing over how to provide care is a common speedbump in relationships, and a situation we see in assisted living very often. As parents age, they often lean on their children for support in much the same way parents originally care for their children. This should be a natural and openly discussed transition for both groups, but it can create a time and resource crunch if it isn't appropriately managed.
Seniors or parents may not want to leave a home they've lived in for decades, or leave their family's home after having moved in and lived there for a few years. You can explain the health and lifestyle benefits of assisted living. Staying more engaged, spending more time with people your age, and getting the help you need are just a few of the key benefits of assisted living.
As a family, you can also come up with a visiting and leave schedule. That way, a senior won't miss out on any important family events and will still spend quality time with their family, and their family can more effectively manage their schedules.
Ultimately, you can't compel a family member to move into assisted living without what's called power of attorney. Even if you possess medical or financial POA for a relative, you're still obligated to act in their best interest and questions about a move to assisted living can arise. We recommend getting everyone on board with a move before initiating one unless that's impossible.
There may be complications outside your control, too. This includes conditions causing memory loss or physical weakness, but you can likely address those too during an assisted living move.
What If My Parent Has Alzheimer's, Dementia, or Another Complication to Moving?
You know your parent or loved one's condition the best, and whether or not they'll be able to make the move. Sometimes in old age, physical or cognitive problems make moving for assisted living difficult. However, your family may not have an option.
Accompanying your parent on a plane ride can do wonders to set them at ease, even if they don't suffer from memory loss or cognition problems. You could also simply rent a car and drive down, making it much easier to control a move and bring furniture or important memorabilia with you. One of memory care's most important memory recall tools is familiarity, and we encourage our residents and their families to make rooms as reminiscent of home as possible.
As a senior, you may recognize a change in cognition yourself. Don't feel like you need to hide a change in your abilities from your family, as it helps everyone involved make an educated decision about the future.
Ready to Make Your Move to Florida for Assisted Living?
We hope we were able to answer your questions about moving to Florida for assisted living from another state. The process isn't overwhelmingly difficult but requires more than you might expect if you aren't prepared.
Feel free to contact Angels Senior Living for more information about moving to Florida for assisted living, or see about finding a community in our assisted living network today.